The concept is straightforward…
Read a book (any book) with your newborn, infant, toddler, or preschool-aged child. The goal is to read 1000 books before your little one starts kindergarten.
The rewards are lasting…
Reading aloud surrounds children with rich language and builds vocabulary and listening skills.
Reading exposes children to new experiences and helps children understand the world around them and empathize with others.
Reading aloud models the importance of reading and shows children reading is fun!
Reading with your child brings you closer together and creates memorable bonding moments.
You are your child's first teacher. We want to encourage you to read, sing, talk, play, and write with your children every day. Starting early—before kindergarten—is key to a child's success when they begin school. The Beverly Public Library is here to support you and your child as you begin your journey toward reading 1000 Books Before Kindergarten!
How to Participate
Visit the library to register your child and receive a 1000 Books Before Kindergarten folder with a reading log. You may also print out reading logs.
Track your child's progress. Your child can color a dot on our reading log for every book you have read together.
Each time your child reads 100 books bring the reading log to the Children's Room and your child can select a book to keep and a fox sticker. Your child will receive 10 books in total on the road to reading 1000 books!
At the 1000 books milestone your child will receive a certificate and a 1000 Books Before Kindergarten fox t-shirt! You will also have the opportunity to take a picture of your child with our library fox!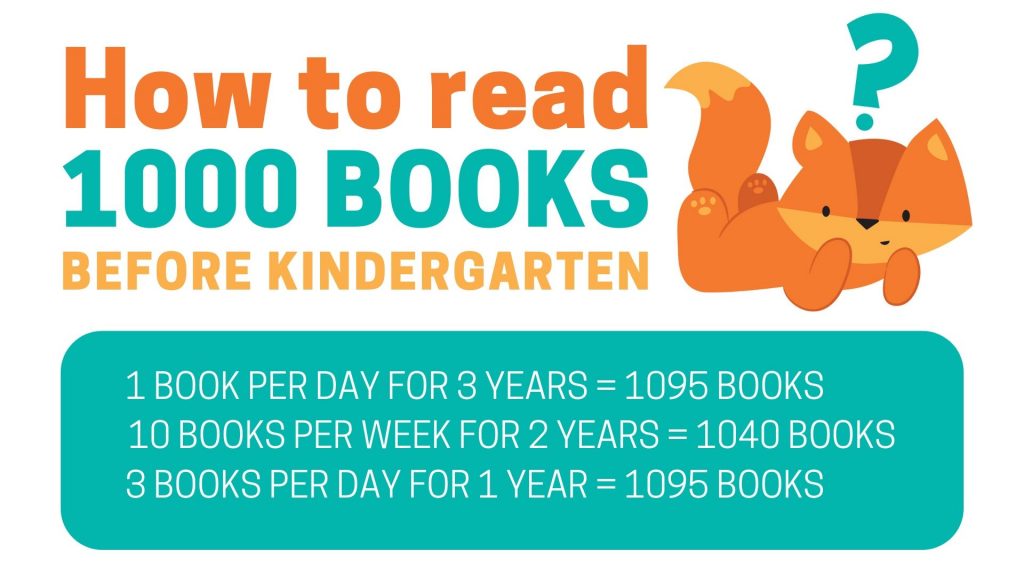 Frequently Asked Questions
Who can participate in the program?
Any child not yet in kindergarten, beginning with newborns. It's never too early to begin reading with your child.
Can I repeat the same book to my child?
Yes, you can repeat books! Every time you read a book to your child it counts. Even if your little one wants to hear a favorite book over and over and over!
Do books we hear at story time count?
Yes! Please don't forget to include books you hear at Baby, Toddler, and Preschool Story Times.
How long will the program take?
The program will take anywhere from a few months to a few years. The program is self-paced, so the time frame will depend on how often you read together.
Book Suggestions
Snuggle up and enjoy these books suggestions with your child!
Babies Need Words Everyday from the Association for Library Service to Children
Board Books for Babies
Picture Books for Babies
Books for Toddlers
Books for Preschoolers
Song Books